Greeting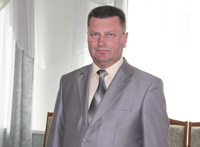 Dear Friends,
Thanks for visiting the official website of the Kostyukovichi District Executive Committee.
Everyone coming to Kostyukovichi District is amazed by its natural and man-made beauty, its forests and woods, rivers and meadows.
This picturesque place is turning into a popular destination for domestic and foreign tourists.
Kostyukovichi District exemplifies interethnic and interfaith peace and harmony. Local residents are hardworking and friendly people who love their land, know how to work and have fun, are open for new experiences and ideas.
Local people work with great dedication striving to make their land a comfortable place to live.
Due to professionalism and creativity of its residents, Kostyukovichi has turned into a modern town.
Kostyukovichi District features many historical and natural monuments. It is proud of its heroic past and works towards a brighter future.
The local economy is dominated by the manufacturing industry and agribusiness. The recent years have witnessed remarkable changes in the socioeconomic development of the district and living standards of local population. The district has a great industrial potential. The biggest company located in the district is Belarusian Cement Plant. The company is investing a lot of efforts in expanding and upgrading the production.
Other promising and rapidly developing economic sectors include agriculture, housing construction, infrastructure, transport, communications, trade, services sector and entrepreneurship.
The district has achieved a lot in the social security sector. Much attention is paid to culture, sports, arts, and childcare.
The district is proud of the people who were born here, including famous government officials, scientists, cultural figures, sportsmen and ordinary people.
We hope that the things you will read about us in the Internet will inspire you to come and visit our district.
We wish all of you the best and are looking forward to seeing you in this wonderful place!

Best regards,
Vladimir Kiselev
Chairman of the Kostyukovichi District Executive Committee