Twin cities
Friendship gets stronger over years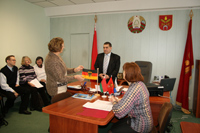 In April 2009, a twin-town agreement was signed between the towns of Kostyukovichi and Dietzenbach. German guests have always been welcome in Belarus and have fallen in love with this country. Although Dietzenbach has twin-towns in Nicaragua and France, it is Kostyukovichi that conveyed the strongest impression on the German guests.
During the four days of their stay in Kostyukovichi (3-7 February 2010), the delegation from Dietzenbach visited educational institutions, culture and social facilities, was shown around the town, visited agrotowns and talked to local dwellers.
The delegation met with Chairman of the Kostyukovichi Regional Executive Committee Mikhail Borisov to discuss the major cooperation areas of the twin-towns. Mikhail Borisov wished the guests to enjoy their time in Kostyukovichi and presented them with souvenirs.
On 6 February 2010, the sides signed a protocol of cooperation in sport, tourism and culture. This protocol secures the further cooperation between the Belarusian and German twin-towns.
For further information about Dietzenbach, please, visit www.dietzenbach.de. To learn more about the Friends of Kostyukovichi charity, go to http://www.freundeskreis-kostjukovitschi.de/.
Igor KOVALEV
Olga KRIVOSHEYEVA
Friendship Without Borders
Almost 20 years passed since strong and creative friendship between education establishments of Kostjukovichi area and the charity organisation «the Circle of friends of Kostjukovichi - Dietzenbach» began. It is not simply friendship, it is the help rendered to our children, and it is boundless. German friends throughout many years have been organising summer improvement of children's health from Kostjukovichi area. Almost one thousand children were able to visit Germany, to keep and strengthen their health.
For two decades eight projects have been realised in education establishments. It has allowed to organise leisure of schoolboys, to teach to use computer, to train children to set up computers from components, to increase coverage of countryside children by preschool education, to equip education establishments with washing machines, toys, sports stock. Only for last three years we have received more than 115 million roubles as humanitarian help. Summer improvement of children's health in Germany allows our children to improve German, to study culture of German people.
What impresses most is unselfishness and sincere desire of German friends in the person of Dorte Siedentopf, Margaret Sauernborn and many others to help our children, to promote their development, formation of healthy way of life. They are engaged in this activity not only in our area, but also at home. They try as much as possible to organise leisure of our children so that they not only have a rest, but improve their health and take pleasure in staying in Germany. And the fact that impressions are really unforgettable, testify the participants of fascinating travel to this country - both children and adults...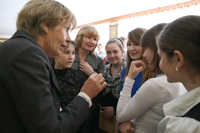 Dorte Siedentopf, the Head of the charity organisation «Circle of friends of Kostjukovichi- Dietzenbach »:
- The first 50 children from Kostjukovichi area visited us in 1991. And this summer for the twentieth time we said goodbye to group of 25 pupils. During these years more than 800 parents from Kostjukovichi have entrusted us their children, and I am sure that children always came back home with happiness, strengthened body and spirit, filled with new impressions, wide experience and dear memories.
This year you have pleasantly surprised us with your openness, your independence and your interest to our life, and it will be hard for you to turn again tomorrow at home into small daughters or small sons.
For us it will be also unforgettable this year how you supported German football team during the World championship. These 20 years have pulled us together, there was trust, and last year this development found the expression in partnership of towns, in occurrence of twin-cities of Kostjukovichi and Dietzenbach. It has made possible the participation of your volleyball team in the European festival in our French twin-city of Velizy at the end of June and the invitation to participate in the festival for the 25th anniversary occasion of becoming twin-cities with Masaya in Nicaragua in September. You, inhabitants of Kostjukovichi, are thus a part of community of other cities.
After the Chernobyl disaster all of us know that radiation does not have borders, but we have never forgotten that for your country the consequences were the hardest since 70 % of radioactive precipitations have dropped out on the territory of Belarus. Any country is not insured from an economic crisis as well. Consuming resources of our planet we all are in one boat. You, young men, should find cleverer answers, than desire to solve conflicts by military methods, than to resolve the problem of power by means of atomic power stations or to be content with intention of expression when answering the questions of environmental contamination.
After 20 years we, members of "the Circle of friends», want to say goodbye to the form of summer improvement of children's health existing before. Time has come for partnership cooperation between schools, associations, enterprises or councils of our towns. Cultural and sport projects should develop, and economic problems and problems after the Chernobyl disaster should be studied together. 5 pupils, who visited us for the second time, could participate for the second time in project weeks of Ernest Reuter School and get acquainted with our school life. Such exchange could be made with our pupils as well.
And once again I remember the year of 1991. Speaking about all families from Dietzenbach who were with us from the very beginning, I would like to mention 3 surnames: Anton, Hofmann, Lauer. 20 years indefatigable, comprehensive support and cooperation (this year again as guest families) deserve respect.
Later appeared new active people and, speaking about many others, this time I will name five: Ursula Ves, family Frost, family Yoner, Hilde Klein, Peggi Sauerborn. This year the circle of guest families has been again expanded and I, remembering also all the others, will mention three: Alex, Altenburg, Voltz.
I thank everybody for 20 years of interesting teamwork during rainy and sunny summer weeks. I hope and wish that our new concept will be supported by many people here and in Kostjukovichi, and will serve appearance of civil society in Belarus and promoting peace in Europe.
Oleg Wolkov, the pupil of the eighth form of Kostjukovichi regional gymnasia:
- I visited Germany this summer. First we lived in the boarding house of Affholerbach, and then - in the families. I want to say that I liked it very much. Our time and leisure were efficient and informative. Every day we were taken to an excursion. We visited a fire brigade, several museums where different expositions were represented, visited a zoo, a church. We also visited Aqua Park. I have so many impressions! I learnt many new and interesting things. Firstly, I visited another country, got acquainted with its culture and traditions. Secondly, I improved my German. In Germany it was given particular attention to our food. It was healthy and useful: fruit, vegetables, juice in unlimited quantities.
What surprised me is that in this country the great attention is given to health. People of all age, even the elderly lead an active way of life. Even those who are over 80 prefer to spend their free time on a tennis court.
I would like to visit this country once again very much.
Irina Petrusevich
Long-Standing Friendship
"No rains, no storms can wreck a great friendship…" The lines from a famous song accurately describe the friendly, successful and cordial relations between the two towns that were established almost 20 years ago. Indeed, back in 1991, Dorte Siedentopf and other charity activists from Germany visited Kostyukovichi District for the first time. In April 2009, a twinning arrangement was signed between Kostyukovichi and Germany's Dietzenbach. German guests were always welcome in Kostyukovichi and fell in love with this Belarusian region. Although Dietzenbach has other twin-towns in Nicaragua and France, it is Kostyukovichi that evokes most pleasant memories.
During four days (from 3 to 7 February 2010) a delegation from Dietzenbach was in Kostyukovichi on a regular visit. The program of the visit was packed with events. The guests were taken to various educational and cultural facilities, social security centers; they were shown around the town, visited agrotowns, and talked to locals.
Their visit to Kostyukovichi Central Regional Hospital lasted for more than two hours. They asked head of the hospital Leonid Shilko over 30 questions about the treatment methods, availability of medicines and working conditions of the staff.
In the afternoon, the German delegation visited the youth community center Yunost. The students of the center and the children's art school prepared an entertainment program for the German guests. After the concert the German delegation suggested picking up the most talented kids to perform in Dietzenbach.
The delegation visited the local lore museum where director Svetlana Tymonyuk who spoke fluent German told the guests about the establishment of the History Hall and showed the expositions. A beads exposition by Yelena Saulova and an exposition of cross-stitched icons by Raisa Kirpichenko aroused deep interest in the guests.
On Friday the charity members went to the village of Proletarskoye to visit the eldercare facility run by the local social services center and the community learning center for children. Personal care products and clothing were donated to the eldercare facility.
Children attending the community learning center prepared a sports show for the guests, while the guests treated children with sweet gifts.
The same day the German delegation visited the children's sports school to present sports equipment. The guests from Dietzenbach were fascinated by a show of young judo-players and volleyball players and invited the most gifted athletes to come to Germany. Director of the school Piotr Glushakov pointed to the close cooperation between the sports school and the German charity.
The delegation was happy to visit the Roman Catholic Parish of the Holy Trinity. Priest Andrei and nun Nikodema arranged a tea party for the guests during which the German delegation promised to give a pipe organ to the church.
The guests were taken to the St. Mary Magdalene Orthodox Church in the village of Fyodorovka which had been recently presented by a font by the charity. Dorte Siedentopf handed over a symbolic gift to the head of the church – a picture of the Dietzenbach church.
The best students of the regional gymnasium nominated for a trip to Germany demonstrated their German languages skills. Every year children from various schools of our district come to Germany for recuperation. The administration of the gymnasium suggested launching a penpal project to establish closer ties between Belarusian children and children from Dietzenbach.
On 6 February the German delegation visited secondary school No. 1 and secondary school No. 2 in Kostyukovichi to discuss joint projects and see the concert organized by the students. After that, the guests were taken to the agrotown of Belaya Dubrova to see a first-aid station and a secondary school. The guests were surprised to learn that the comfortable well-managed building of the first-aid station was maintained only by two people.
The guests toured the local school and attended an innovative concert-lesson in the German language using modern multimedia technologies. The delegation presented the school with sports equipment.
On a Saturday night the German guests were taken to the Isakova art school for a concert prepared by young hopefuls of Kostyukovichi.
The visit concluded with signing a protocol of cooperation in sport, tourism and culture on 6 February. The information about Dietzenbach is available on the website www.dietzenbach.de; to learn more about the Friends of Kostyukovichi charity, go to http://www.freundeskreis-kostjukovitschi.de/
Igor KOVALEV
Olga KRIVOSHEYEVA